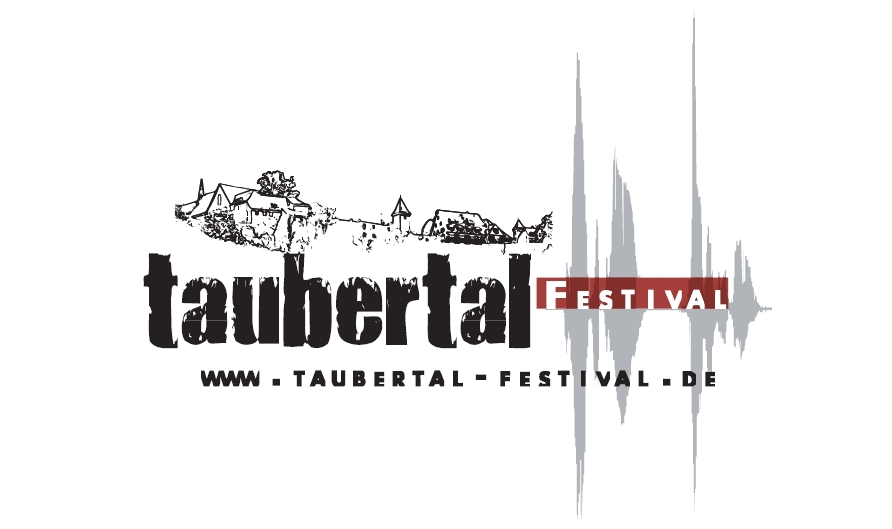 8.-11. August 2024 in Rotheburg ob der Tauber | www.taubertal-festival.de
Präsentiert von: VISIONS, FESTIVALPLANER, EVENT, SLAM

Veranstalter: KARO Konzert-Agentur Rothenburg GmbH

Bestätigt für das Taubertal Festival 2024: DEICHKIND, NINA CHUBA, GIANT ROOKS, BOSSE, BUKAHARA, ZEBRAHEAD, SWISS & DIE ANDERN, MAYBERG, NOVA TWINS, MONTREAL, DRITTE WAHL, ESTHER GRAF, AKNE KID JOE

Gelegen im wunderschönen Taubertal mit einem fantastischen Blick auf die historische Stadt Rothenburg o.d.T. bietet die Eiswiese eine eindrucksvolle Kulisse für das Taubertal-Festival.

Neben der einmaligen Lage unterscheidet sich die Veranstaltung auch sonst von manch anderem Freiluftspektakel: Statt sich an einem Wettkampf um das größte Sommerevent zu beteiligen werden lieber gesund gewachsene Strukturen gepflegt.

Eine durchdachte Organisation und die qualitativ hochwertige und gut gemischte Programmauswahl bieten den Besuchern ein unvergessliches Wochenende im "Tal". Wichtig ist dabei, dass die Beziehung zwischen Publikum und Band immer direkt und greifbar bleibt. Das Taubertal-Festival gilt als "Clubshow unter den Festivals".

Der schönste Beweis für den Erfolg dieses Konzepts ist die Tatsache, dass die Veranstaltung seit Jahren ausverkauft ist… wer dabei war kommt wieder!

Tickets unter www.taubertal-festival.de oder an allen CTS Vorverkaufsstellen.

—

In den vergangenen Jahren haben auf dem Taubertal Festival gespielt:

2023:
PETER FOX, BROILERS, MARTERIA, ELECTRIC CALLBOY, BILDERBUCH, FRANK TURNER & THE SLEEPING SOULS, DONOTS, ME FIRST & THE GIMME GIMMES, SCHMYT, WHILE SHE SLEEPS, DICHT & ERGREIFEND, THE BABOON SHOW, QUERBEAT, 102 BOYZ, EDWIN ROSEN, GROSSSTADTGEFLÜSTER, TEAM SCHEISSE, BETTEROV, DISARSTAR, BLACKOUT PROBLEMS, DESTROY BOYS, AS EVERYTHING UNFOLDS, DEINE COUSINE, ENGST, DREI METER FELDWEG, MOLA

2022: ANNENMAYKANTEREIT, BIFFY CLYRO, KRAFTKLUB, KONTRA K, SDP, FLOGGING MOLLY, WIZO, FEVER 333, LABRASSBANDA, ANTILOPEN GANG, FABER, CLUTCH, LEONIDEN, FIDDLER'S GREEN, NATHAN GRAY, ROGERS, JOSH., MASSENDEFEKT, ITCHY, DAS LUMPENPACK, MONSTERS OF LIEDERMACHING, BLOND, FÄASCHTBÄNKLER

2019: DIE TOTEN HOSEN, DIE FANTASTISCHEN VIER, THE OFFSPRING, BULLET FOR MY VALENTINE, BOSSE, MADSEN, VON WEGEN LISBETH, NOTHING BUT THIEVES, ESKIMO CALLBOY, DONOTS, OK KID, MOOP MAMA, TRETTMANN, ZEBRAHEAD, FRITTENBUDE, FRANK CARTER & THE RATTLESNAKES, RUSSKAJA, YUNGBLUD, MEGALOH, SHAME, BARNS COUNTRY, MILLIARDEN, THE SLOW READERS CLUB, TURBOBIER, DRUNKEN MASTERS, ERWIN & EDWIN, THE CHATS, KAFVKA, SIND, POTTINGER

2018: BEATSTEAKS, BROILERS, KRAFTKLUB, MARTERIA, IN FLAMES, EDITORS, FEINE SAHNE FISCHFILET, GOGOL BORDELLO, HOT WATER MUSIC, HILLTOP HOODS, TALCO, KÄPTN PENG & DIE TENTAKEL VON DELPHI, FABER, JORIS, THE BABOON SHOW, HENNING WEHLAND, IDLES, SILVERSTEIN, THE MENZINGERS, INVSN, DICHT & ERGREIFEND, KILLERPILZE, MONTREAL, DRANGSAL, SWISS UND DIE ANDERN, SWMRS, CREEPER, GRANADA, MONSTERS OF LIEDERMACHING, ZEAL & ARDOR, CONCLUSION OF AN AGE

2017: BILLY TALENT, RISE AGAINST, BIFFY CLYRO, CASPER, ALLIGATOAH, IN EXTREMO, THE AMITY AFFLICTION, BLUES PILLS, ANTI-FLAG, JENNIFER ROSTOCK, ANTILOPEN GANG, FIDDLER'S GREEN, DJANGO 3000, SKINNY LISTER, KYLE GASS BAND, EMIL BULLS, WATSKY, VON WEGEN LISBETH, COUNTERFEIT u.v.a.

2016: LIMP BIZKIT, DIE FANTASTISCHEN VIER, K.I.Z., WOLFMOTHER, SUM 41, WIZO, WANDA, BOSSE, BOYSETSFIRE, DONOTS, ROYAL REPUBLIC, NADA SURF, CLUTCH, FRANK CARTER & THE RATTLESNAKES, MOOP MAMA, FEINE SAHNE FISCHFILET, TURBOSTAAT, BEACH SLANG, ADAM ANGST u.v.a.

2015: The Offspring, Beatsteaks, Dropkick Murphys, Kraftklub, Marteria, Farin Urlaub Racing Team, Kyle Gass Band, Madsen, Against Me!, Everlast, Funeral For A Friend, Olli Schulz, AnnenMayKantereit, We Are The Ocean, The Smith Street Band, Sondaschule, Antilopen Gang u.v.a.

2014: Seeed, Casper, Sportfreunde Stiller, Biffy Clyro, The Subways, Ska-P, Broilers, Enter Shikari, Zebrahead, Jimmy Eat World, Kakkmaddafakka, SDP, Russkaja, Dave House, Emil Bulls, Kellerkommando, The Intersphere, Lagwagon, Samy Deluxe, Trampled By Turtles, Augustines u.v.a.

2013: Die Ärzte, Deichkind, Biffy Clyro, Skunk Anansie, Editors, Chase & Status, Bad Religion, Flogging Molly, And You Will Know Us By The Trail Of Dead, Pennywise, Subway To Sally, Alkaline Trio, The Locos, Frittenbude, Jennifer Rostock, Awolnation, Dendemann, Blumentopf u.v.a.
DOWNLOADS
Abdruck der Fotos honorarfrei – wir bitten um Nennung des Fotografen: Sebastian Goeß

Download: Taubertal Festival Logo
WEBSEITEN
Homepage: http://www.taubertal-festival.de
Facebook: http://www.facebook.com/taubertalfestival